Rally Point Endeavors (RPE)
To RALLY is to come together for a common cause
A rallying POINT is a location to regroup and direct joint efforts
To ENDEAVOR is to pursue one's duty with purpose and perseverance
Mission
Rally with purpose always | Point the way forward | Endeavor onward in all ways
Vision
Purposeful InterConnectivity of individuals within community spaces
Powerfully connect and boost lives with Fitness, Health, Performance and Fun
Purpose
Provide experiential coaching & human development around concepts of leadership, loyalty, character and service to team
Connecting participants through the fostering of relationships within fitness, business and related lifestyle activities
cfRPE Team
Brad Raysby
Mission Chief | Visionary Officer
Brad's career in wellness began at an upscale industry leader, Equinox Fitness, where he was a Personal Trainer and Manager for a number of years. Brad left Equinox to pursue his personal vision of building a fitness brand that was at the leading edge in concept and offering. First taking part in founding one of Chicago's original 3 CrossFit locations, 'Lincoln Park CrossFit'. After a couple of years he took on a new challenge as a co-founder of 'The Foundry', a health & lifestyle brand in downtown Chicago that would go on to hosts affiliates Printers Row CrossFit and Union Station CrossFit as a cornerstone to their offering.
In the years since he has continued to build relationships and businesses in the fitness communities of Chicago. Contributing to inexperienced upstarts, established gyms, and other community wide ventures between. His expertise has grown to include branding, business consulting, coaching development, program design, and facility layout. Experienced as a Coach and Operator he is now ready to take on the mission of bringing the full vision of Rally Point Endeavors to the world, starting with the people of Chicago.
Education:
NPTI CPT National Personal Training Institute certified (i) personal trainer and (ii) nutritional consultant
EFTI Tier I , II and III Equinox Fitness Training Institute
CrossFit Level 1 Trainer
CrossFit Level 2 Trainer
Competitors Course Certificate CrossFit Inc.
Endurance Trainers Certificate CrossFit Inc.
Movement & Mobility Trainers Certificate CrossFit Inc.
Powerlifting Trainers Cert (Westside Barbell Methods) CF Inc.
Strongman Trainers Certificate CrossFit Inc.
Striking Trainers Certificate CrossFit Inc.
Defense Trainers Certificate CrossFit Inc.
Kid's Trainers Certificate CrossFit Inc.
USAW Level1 Sports Performance Coach United States (Olympic) Weightlifting
USA Track & Field Level1 Coach USATF Coaching Education
Naka Athletics Freestyle Gymnastics Seminar Naka Athletics
Kettlebell Athletics Certificate Kettlebell Athletics Inc.
Concept2 Rowing Certificate Ucanrow2
Functional Movement Screen (FMS)
Kinetic Mechanics Workshop Coach Jake Hillberg
Dynamic Movement Prep Workshop Coach Frank Dolan
MovNat Workshop MovNat Coach Clifton Harski
Cardio Strength Training with Coach Robert Dos Remedios
Training For Warriors Certificate Coach Martin Rooney
Whole9 Foundations of Nutrition Workshop Whole9
Whole9 Trainers Workshop Whole9/Dutch Lowy
Pre/Post Natal Certified Annette Lang Education Systems
CPR/AED American Heart Association
---
Alex Carlson
Head Coach | Program Director
As soon as Alex found CrossFit, he fell in love. Alex remembers not knowing how to program for it when he first started while training at the local globo-gym. He only did hero and benchmark WOD's because that's all he could find online. He got his butt kicked every day but, he wanted more! Alex started coaching CrossFit about two years ago. In those two years he's seen people's lives transform because of this unique fitness regime just as much as he has changed.
Alex says, "I come from a background of aimlessly wandering through life but, once I started coaching I knew I had arrived, I found my calling. My main goal is to help people, in the same way that CrossFit has helped me. My life is truly better because of it and I want to share that with the world."
Education:
CrossFit Level1 Certification
CrossFit Strongman Certification
CrossFit Kids Certification
CrossFit Powerlifting Certification
Juggernaut Powerlifting Seminar
Precision Nutrition Level One Coach
Flexible Eating Seminar
CPR/AED
---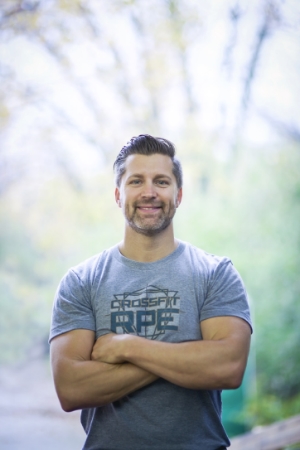 Tom Kousgaard
Executive Endeavors Officer | Rally Coach
Tom excelled in prep sports growing up in Omaha, NE. He was a varsity athlete in football and soccer and also competed in wrestling and basketball during the winters. He went on to play soccer at Creighton University for a season before realizing if he was going to be an all-American in collegiate sports, it would have to be in an intramural setting!
Today Tom operates as both the co-founder of Rally Point Endeavors and Business Leader for Australia and Canada lending for Enova International. The first 8 years of his professional career were spent in business transactions working on mergers and acquisitions for businesses all over the world. He has worked on transactions from middle America, to Eastern Europe and everywhere in between. Over the last 7 years he took on a different role with Enova International serving as Director of Finance for 5 years and then getting promoted to head 2 country's business operations. His specialties include leading cross-functional teams, management, and out-of-the-box thinking.
He has a great deal of love and dedication for his day (and sometimes night) job, but additionally has a deep passion for helping every person be the best them. Thus, the concept of RPE was born and the pursuit was on. Over the last 3 years he has focused his free time on helping struggling CrossFit boxes and moving them to profitability. He has done this by both, introducing proper metrics/reporting to operate by and by offering consistent, meaningful interaction with all members. Bottom line, his professional expertise, coupled with his interpersonal skills, make him a force in the wellness community.
Education:
University of Virginia – Masters of Science – Accountancy
Creighton University – BSBA in Finance
International Studies – Lynn University, Dublin Ireland
Sports:
Collegiate soccer at Creighton University
2013 – 2015 CF Open North Central
Granite Games
Spartan Super Race
Tough Mudder
Accenture Triathlon
Numerous 5k / 10k and Half Marathons
Fitness/Wellness:
CrossFit Level1 Trainer
Spartan SGX
CPR/AED